Amazon Prime Discount
Just found out this nice Amazon Prime Discount Ends Today! Grab one of the best deals on the web right now and get your Amazon Prime annual membership for only $73. Discount ends today Sunday, January 17th at 11:59 p.m. PT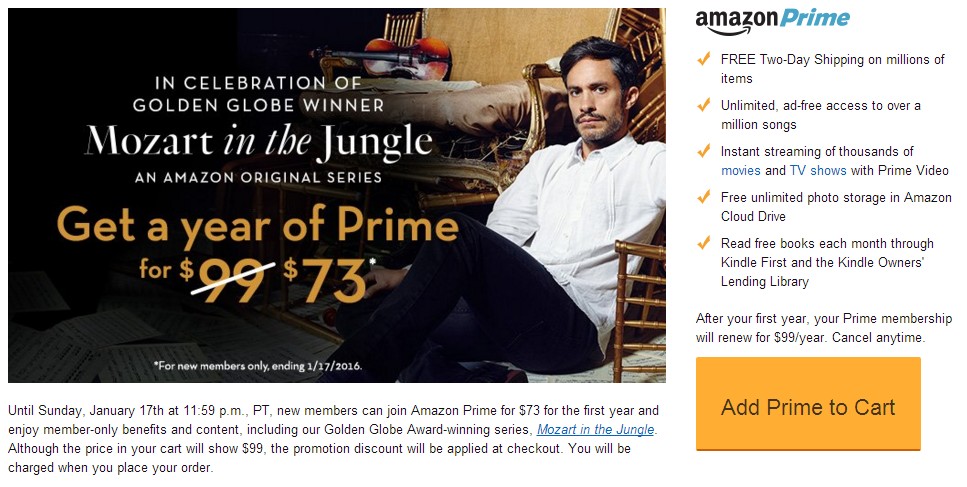 I grabbed a similar deal on Prime a few months ago and I've already more than recouped my membership cost just from saved shipping charges and lower satellite bills. You can share your membership with other family members too.
I'm absolutely loving all the free movies, apps, books, games, FREE 2-day shipping, music, ect. Really happy with my Amazon Fire TV Stick + Prime benefits.
If your TV is not a smart TV, then consider getting Fire TV stick or console too. My Fire TV Stick was super easy to set up. It turned my TV into a smart TV. Fire TV Stick w/ voice search cost me only about $35 and it allows me to access all the Amazon Prime membership benefits and content on my HD TV. Great way to cut the cable/satellite bills. Love the voice search too. Very convenient for finding movie titles, trivia, weather, ect.
Click above image to explore all the great benefits of Prime and check out Fire TV section too. This is a no-brainer investment. You get a LOT of value in excess of this low cost, especially if you grab this sale today.