I Escaped the Rat Race ... Here's How!
I'm frugal as heck and I question EVERYTHING!
That's part of the reason I was able to just quit my much hated and unhealthy wage-slave corporate job at the ripe old age of 38.
Life really doesn't have to be so darned difficult.  I'm loving my new-found freedom!
No more suits, no more commutes, no more stress from moronic coworkers & bosses, no more rationing precious little vacation time, and no more waking up at 4 am!
I now work from home full-time and earn a steady income from my websites (this one included).
Besides my own self-reliance & perseverance, I owe a big thank you to the tried and true discovery that is empowering me to live life on MY terms.
They have become like my second family, but I only wish I had found them years earlier than I did.
I sincerely hope this thrifty website helps you to find your way down that road less traveled toward greater independence.
Yours Truly,
Marc A. Smith
(Founder of Frugalicity.com)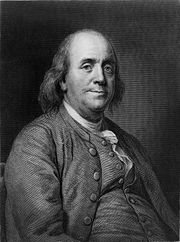 I'll bet old frugal & entrepreneurial Benjamin Franklin would have marveled at the power of the internet, especially when compared to the limited colonial reach of his "Poor Richard's Almanac" published from his early printing presses.

If he were alive today, I'm sure, like me, he probably would have figured out a way to earn a nice living online by building web businesses around his various hobbies and diverse know-how. He'd be sharing ideas with millions of people from all over the world, and he'd probably be "doing well by doing good" online.

I think Ben would have loved SBI! because it is unmatched for empowering every day folks like you and me to build extra income, independence, and freedom using the power of the web.
I'm using SBI!'s intuitive, highly affordable, all-in-one system of tools and step-by-step instructions to build Frugalicity.com and my other web businesses. I love it! I'd never use anything else.
Click below and learn why Ben (and you) would love it too...